about us...
a family trade SINCE 1969

!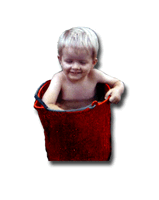 The founder of Brite & Clean Windows, Tim Bloom, had his first day on the job at the very young age of only 3 years old! Alright, that's stretching it just a bit, he was likely more in the way than any real help at this point in his window cleaning career.
By age 11 , Tim Bloom, got his first taste of real competition.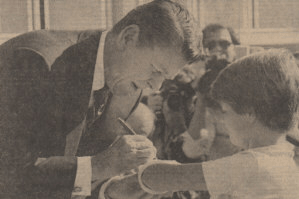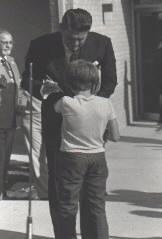 After having his broken arm cast autographed by Presidential candidate Ronald Reagan, Tim joined the Republican Presidential Task Force to help campaign for the election of Ronald Reagan. Recording TV and radio commercials as well as election-day campaigning at the polls probably gave young Tim more experience in marketing, politics, and the media than the typical voting-age citizen.
Following his election, President Reagan awarded Tim with a Medal of Merit and sent him a personal letter thanking Tim for his friendship and support in the election.
By age 12 Tim was helping with his older brother's window washing company and working part-time at his father's chiropractic office developing x-rays and providing clerical help filing patient records.
At age 17 Tim's creative drawing talent was discovered by his high school art teacher who arranged to have one of his drawings displayed at the local art museum.
Recommended by his high school counselor, at age 17 Tim was accepted in a "mentor" program at the city's largest and the most respected advertising and public relations firm in Springfield, Missouri, owned by John Q. Hammond, where he learned firsthand how the "big boys" do it.

Following high school graduation, Tim moved to Palm Springs, California with his brother and father. Tim went on to establish a company that would come to be known as Brite & Clean Windows™.