Diamon-Fusion® EZ-Clean Non-Stick Coating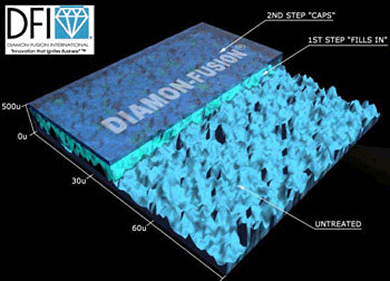 Diamon-Fusion® is a Surface Shield™ for shower doors
Enjoy cleaning up after yourself? Not many of us do.
Many people have learned the hard way that letting water dry on shower glass doors or windows can lead to future water stain headaches.
More and more homeowners, architects, designers, builders and glass installers are learning of the benefits that a patented award-winning Diamon-Fusion® protective glass treatment can offer.
Think of Diamon-Fusion® as the aspirin for all of your hard water stain headaches.
Shower doors, windows, granite countertops, porcelain sinks and even toilet bowls are all consistently the source for many homeowners hard water stain woes.
Consumers in the United States spend million of dollars on cleaning chemicals like Lime-Away®, Shower Power®, Kaboom® and CLR® that promise to remove hard water stains. Some work better than others. Others don't seem to work well at all. In nearly every instance, homeowners must breath in chemical fumes when they use these products in and around their homes.
Wouldn't it be nice if you could prevent hard water stains from coming back again? Wouldn't you like to be able to clean your shower doors with simple water and a micro-fiber towel? How would you like to throw away the squeegee you have hanging or sitting in your shower stall?
Keep hard water stains from coming back and keep your shower glass doors clean and clear without the need for chemicals and squeegees! Let us treat your shower doors and windows with the amazing Diamon-Fusion® technology and you can throw your squeegee away, unless of course, you are having a love-affair with it.
No more racing your spouse or partner to the shower so that the last one out has to squeegee the glass. No more arguments over why your too busy to clean up after yourself. We've even heard that Diamon-Fusion® has help save someone's marriage. No kidding. Diamon-Fusion® is probably a lot cheaper than going to a marriage coulselor.
If you are a compulsive cleaner and just can't seem to get your shower doors clean enough, Diamon-Fusion® may be the help you need. Besides, it's probably a lot cheaper than going to a therapist.
Diamon-Fusion®…Effortless cleaning for effortless living.™